Hurry! Only a few days left to sign up for Julep Beauty Box and get their Star Spangled 8-Piece Beauty Gift for FREE when you pay for your first month ($24.99). That's a $122 off free red-white-and-blue beauty! Use the products in the gift to get the perfect look for the long 4th of July weekend.
To redeem your Star Spangled 8-Piece Beauty Gift, add the gift to cart and use code FIREWORKS at checkout.
Your free patriotic beauty gift includes:
Four patriotic nail polishes

Hot pink lip gloss

Peony pink blush stick

Bronze eyeliner

White chevron nail decals
After you join Julep, you'll get a box of gorgeous and good-for-you beauty, nail, or skincare products delivered to your door every month. Julep offers the only full-size and fully-customizable beauty box out there, so you get what you want every month!
Get your Star Spangled 8-Piece Beauty Gift today! Use promo code FIREWORKS to get your free gift when you pay for your first month of Julep ($24.99).
When the heat kicks in closed-toe shoes are not an option, but this colorful sandals will make you forget what an ankle boot even looks like. Check out our list of the  eighteen must-have sandals every woman should have stocked in her closet this season.
We  searched through the pages apon pages of dresses on  Zappos, and  picking out dresses that are both cute and have great reviews so you don't have to!
Looking for the perfect summer dress? Here are some of my favorite options under $30
This Va Va Voom dress sizes 1x-4x $30 from Modcloth
This Halter shift sizes 1x-3x $22 from Wet Seal
This striped shift sizes 12-20  $30 from Asos
1. This pretty lace overlay shift dress sizes 0x-3x $25 from Forever 21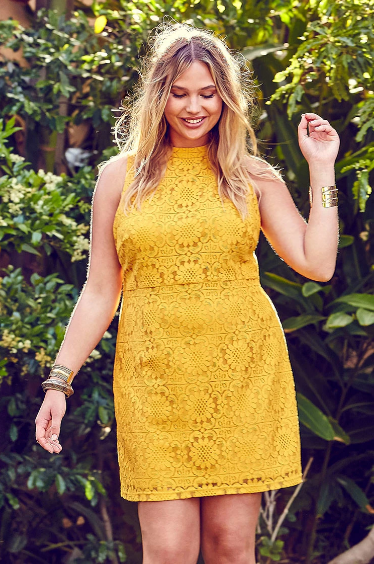 This  90's inspired black floral dress- Sizes 0x to 3X $17.90 from Forever 21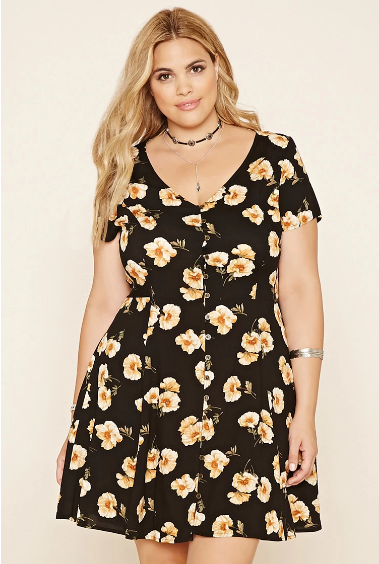 This boho beauty Sizes 12-20 $25 from Asos
This slinky number sizes 0x-3x $20 from Forever 21
This crochet frock sizes 0x-3x $28 from Forever 21
This coral cami dress sizes 0x-3x $20 from Forever 21
This Crochet maxi sizes 1x-3x $25 from Rue 21
This retro dress sizes 1x-3x $29 from Rue 21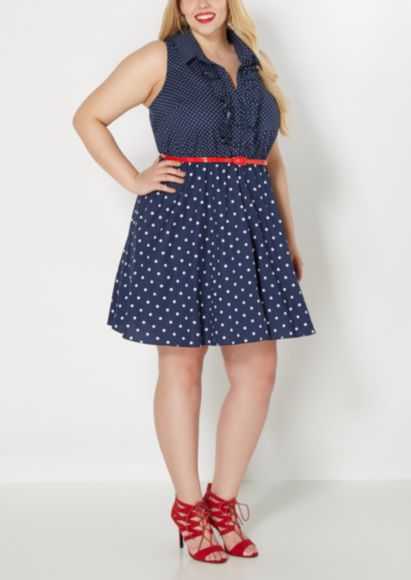 This Chiffon maxi sizes 1x-2x $30 from Wet Seal
This cold shoulder boho shift sizes 1x-2x $30 from Wet Seal
This blue wrap dress sizes 1x-2x $23 from Wet Seal
This Chambray dress sizes 1x-3x $25 from Wet Seal
Sometimes the thought of primping and polishing is just too much. For just such days: we have  the shirtdress, because you can't wear pajamas to work.
Now that warm weather is in full swing, the shirt dress is just the piece you need to make the transition to summer a total breeze.
A gift to ladies everywhere, a shirtdress is part sophisticated outfit, part loungewear. Sounds like a win-win to me!
Shirtd resses are breezy and keep you cool during the summer, and they can work for the office or a backyard cookout. The simplicity of the shirtdress allows for minimal outfit planning—just add a few accessories for a complete look.
Whether you're rocking the traditional blue chambray, feeling romantic in a floral number, or looking nautical in stripes, we've got just the shirtdress (or a few) for you.
1. & Other Stories Oversized Twill Shirt Dress ($95): If you're stuck in an LBD rut, think outside the box  by giving this pocketed shirt dress a try. Play it cool with a laid-back  cross body  and d'orsay  flats or  dress it up with a statement belt and an updo.
2. Loft Flippy Shirtdress ($80):Wear this pretty paisley number with espadrille wedges and dazzling drop earrings for date night or  toss it on top of a swimsuit for a beach-day getup that makes the transition from sand to street easy.
3. Zara Striped Tunic ($50): Dotted with petite palm trees,Play up its vacay-ready vibes with a bright pineapple clutch bag and a straw hat. Bonus points for pom-pom embellishments.
4. Fred Perry Polka Dot Shirt Dress ($190): Celebrate the onset of warm weather  with a polka dot shirt dress that will inspire you to do less. Style it with simple white sneakers and a straw cross body bag for a low-key look.
5. Reformation Dozer Dress ($58):Achieve French-girl perfection by styling it alongside a knotted silk scarf and a don't-care 'do.Whether you tuck it into denim or let it hang loose, this relaxed, long-line tee can do no wrong.
6. Free People Looking for Love Henley ($128): Stand out in a sea of denim and suede A-line minis with this '70s-inspired henley dress that will look as cute with clogs and oversized hexagonal sunnies as it would with crossover slingbacks and a tassel ear jacket
****This post contains affiliate links and I will be compensated if you make a purchase through the below links****
Looking for the perfect mothers day gift? look no farther than Modcloth
Modcloth has a wide selection of gifts for mom, grandma and your favorite aunt!
/productshots/0168/6921/fdc7fc68aa6acbe8f6a42e91fdffaaa8.jpg?1460067752
/productshots/0168/6925/164b648f1222f642e9575b33fa23f641.jpg?1
/productshots/0168/6929/47189890aa4059e6443fa9e6308601a3.jpg?14600677Cool, Calm, and Cleansed Body Scrub in Lavender $27.99
Give your daily routine a touch of tranquility by adding in this honey body scrub. Made of all-natural and organic ingredients, this soothing product smooths skin and detoxifies pores as it envelops you in the serene scents of lavender and citrus. Equanimity never felt so sweet!
Stills of Dayspring Robe $64.99
Though in reality, this satiny robe floats against your figure, the sweet moments spent in its champagne hue linger like frames from a reel. Gorgeous vintage-inspired crocheting – touched with a subtle metallic sparkle – blossoms down your sleeves, meeting mesh trim at each cuff, while an inner tie and sash  hold this dreamy piece perfectly in place.
/productshots/0165/8545/fa5c80ea8debc25bec9dcdbf1d6c2659
/productshots/0165/8549/1c9b70e02f043788825078672cd890a7.jpg?1453761397
/productshots/0165/8557/fe7125a5ab76287e981d9b55ed641b5b.jpg?1453761402
/productshots/0165/8565/928d3e72936bf75837d9a4e12f868a42.jpg?1453761408

Letters to My Mom $14.99
After decades of offering you love, your mom deserves your affectionate words. Scribe them in the stationery that fills this hardback booklet from Chronicle Books! Each sheet comes complete with a sweet prompt and folds up to look like an envelope – and, at the end of the album is a page of stickers with which to seal your heartfelt letter. Your mother will be beyond touched!
Mom, I've Always Wanted to Tell You $14.99
From your first sweet steps to the time she taught you to drive, your mom has been by your side for the most significant moments in your life. Share the memories that you've always cherished with this charming keepsake journal! Designed by Allison Weiner and produced by Chronicle Books, it features fifty prompts that will inspire you to reflect on all of the magical and moving experiences you've had with your mother, as well as the adventures to come. Quaint trim and quotes about motherhood add a kiss of sweet detail each page, while your handwritten responses remind her of what a wonderful job she's done. Momma may know best with this token that she can treasure!
As a Matter of First Course Plate Set $49.99
It's a no-brainer that you'll serve your guests delicious little dishes atop this eclectic set of ceramic plates! Also ideal for holding sliders, popovers, and skewers during an hors d'oeuvres hour, these blue, mustard, white, and red patterned plates bring fun flavor to the festivities.
Undisputed Class Watch in Black & Rose Gold $109.99
Become known as the arbiter of good taste by making this Midi Dial watch from Olivia Burton your everyday accessory! Elegant and classic, the rose gold face of this watch boasts a polished rim. Paired with its black leather band, this top-notch timepiece wants for nothing.
**This post contains affiliate links and I will be compensated if you make a purchase after clicking on my links.
You can now get $750 in free accessories when you  sign up to be a Stella & Dot Stylist for as low as $199 now through April 30th!
An additional $100 in initial Sample Credit is accessible to Stylists immediately upon signing up. Sign-up options are as follows:
• Online and On-The-Go Sign-up: $199 for $450 in Sample Credit
• Trunk Show Essentials Sign-up: $499 for 1,100 in Sample Credit
• Business Builder Sign-up: $699 for $1,600 in Sample Credit
In addition to getting special discounts on the jewelry and accessories that you love, you  will also have the freedom to style your own financial future when you  become a Stylist with Stella & Dot. Other perks include:
• An incredible business to call their own
• The ability to work from home and earn extra income sharing the jewelry, accessories, and fashion trends that you love with others
• Training and support from amazing and successful women
• Free jewelry, as well as significant discounts
• Expense paid vacations
• A personal website and online business center
• and so much more!
You can learn more about becoming Stella & Dot Stylist by going here.
Sign up as a Stella & Dot Stylist for $199 and get $750 in FREE accessories when you sign up in April!
Last but not least, you'll be able to earn an additional $300 in product credit when you  sell $1,000 in the first 30 days!
I received the below product(s) free for review purposes

When  MAKE Beauty reached out to me to do a review I knew I had to say yes!
A bit about the brand: MAKE believes there are no beauty rules. That each individual is driven by an artistic approach to their own personal reality. That it's beautiful to be inspired by your imagination. To embrace a whimsical approach to life. To be outspoken, intelligent, confident and un-self-conscious. MAKE encourages creative self-expression as individuals everywhere
color their world. Their beauty products are designed for personal experimentation with rich formulations and rare palettes in an unconstrained range of colors, finishes and textures. The line is professionally formulated but user-friendly and can be applied as layers to give as much or as little impact as you feel like on any given day. Whether the look is the perfect no-makeup-makeup or modern minimal alongside a more pigmented finish is entirely up to you.
MAKE  Silk Cream Lipstick in Taffy $25-0.12 oz.
Vivid, saturated color that does double duty as a protective moisturizing treatment with antioxidant vitamins, rosehip, soybean and safflower oils. Aloe and chamomile extract further condition lips. Feather-resistant and intensely pigmented in true-wear shades. Apply to lips after primer and liner.* Not tested on animals, hypoallergenic.
MAKE Matte Finish Eyeshadow in Alabaster $25-0.10 oz.
Turn heads with this stunning, intensely pigmented shadow in an array of blendable shades. The velvety matte powder goes on smoothly with a crease-resistant, oil-free formula that looks fresh for hours after you've applied it. Vitamins C and E help to provide antioxidant protection for the delicate eye area. Gently sweep over lids, apply dry or wet for a more intense finish. * Not tested on animals, hypoallergenic.
I received  sample sizes' of these products and the silk cream lipstick and  Matte finish eyeshadow are Tiny and I was only able to get a few uses out of them.
Anyway, coming to the quality, the silk cream lipstick is a satin finish and the shade taffy is a medium toned pink that is universally flattering. Although the shade and finish were nice the staying power is lacking. It stays on for 4-5hours (if you don't eat/drink anything, so it stayed on for about 2-3 for me)
The matte finish eyeshadow is a soft eggshell color with a hint of peach. The color was perfect for my skin. I like the texture as it is really easy to apply. The outcome totally gets affected if you don't use a primer.
Enjoy a special 20% off sitewide on Makebeauty.com with the code MAKEYOURSELF, valid through 3/1-5/31
When it comes to vintage and retro clothing, many people feel that charity shops are still the be all and end all, and I agree that sometimes you can find an absolute vintage bargain in a charity shop, and if you're really lucky, something designer. But in a world which is becoming increasingly online, buying vintage and retro clothing has also become an online affair! The two retro/vintage online shops I am going to share with you all are United Kingdom based, but they both ship worldwide.
1.
Pop Boutique sell both 'recycled' vintage clothing and their own retro brand of clothing, both of which are wonderful. In the UK (and now in Gothenburg, Sweden also) you can try the clothes on in their physical stores. However, I can say that I feel that their clothes are true to size, which always makes me feel confident about online ordering.
Currently, you can only buy their own brand clothing online, but there is a vintage option on the website and it is apparently 'coming soon'. That is exciting! Their vintage Levi jeans and shorts are a staple in my wardrobe!
In terms of their own brand retro clothes, I have many of their dresses, and I feel that retro dresses are what they really excel in. Also I think that for retro dresses, they are good value for money, with most being under £30. Their other clothing items such as skirts, jumpsuits and t-shirts are also very good quality for the price, and are either simple and understated, or wild flamboyant prints like paisley!
Pop boutique also stock men's retro and vintage, meaning you can buy presents for any  men in your life who like vintage, or recommend a great vintage online store to them!
My clothing item pick: This beautiful yet simple black dress with contrasting white collar and hem in a true sixties style!
2.
Atom Retro is another wonderful retro and vintage online shop, albeit generally slightly pricier than Pop Boutique. Atom Retro is a site that sells branded retro and vintage, for both men and women. It is basically a really good directory for good quality vintage brands, including big names such as Pretty Green and Lambretta for Men  and Madcap England and Marmalade for women.
An added bonus to Atom Retro that I find is that there is always a lot of beautiful stuff in the sale section, which is always a plus for finding some beautiful branded retro clothing for bargain prices! The swimwear section is also very good, considering I find it hard to find good quality retro stuff in which to go swimming!
Another thing I like about Atom Retro is that I feel they have a good selection of retro clothes from different time periods. I am a massive sixties lover, and a majority of my vintage clothes come from or are inspired by sixties wear, I like the option to have a good selection of clothes inspired by the fifties, sixties and seventies.
Lastly, Atom Retro has a home wear and Gifts section. And it is very very good. You can buy retro clocks, record players and even badges or key-rings for the Mod in your life!
My Clothing Item Pick: This Mod/Swinging Sixties Black jersey style dress with striped collar, giving it the a sporty-polo look.
It's the first day of Spring, and Julep has a new gift-with-purchase subscription offer featuring three spring-forward polishes.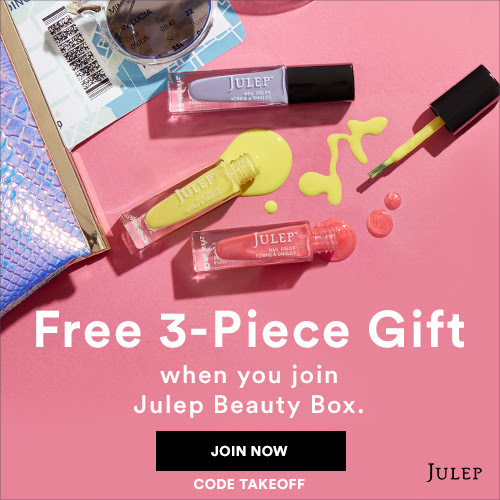 Spring broke? Here's your break! If you can't get away for a proper week in the sun this spring, lighten up with a pop of bright pastels! You'll get this Free 3-Piece Polish Gift when you join Julep Beauty Box. When you join Julep, you'll get a box of gorgeous and good-for-you beauty, nail, or skincare products delivered to your door every month. Julep offers the only full-size and fully-customizable beauty box out there, so you get what you want every month! To redeem your Free 3-Piece Polish Gift, add the gift to cart and use code TAKEOFF at checkout.
Your gift includes:
One pink grapefruit sheer iridescent polish

One hyacinth crème polish

One tart lemon crème polish
Here are some reasons why you'll love Julep:
Julep is affordable. Every month you get more than $40 of full-size products for just $24.99 per month (tip – prepay for three months at a time and only pay $19.99 a month).

Julep is the only customizable subscription beauty box that makes all of their own (full-size!) products . That means no surprises, no dupes or colors you don't like. You can see what is in your box each month and have the option of swapping out colors/products you already have or don't want.

Julep subscribers get 20% off all single product purchases, free shipping, early access to secret sales. If you are passionate about your polish, that adds up to some amazing savings!

Satisfaction guaranteed – just call to cancel anytime.
Get your Free 3-Piece Polish Gift today! Use promo code TAKEOFF to get your free gift when you pay for your first month of Julep ($24.99).
When polish brand Nails Inc announced the launch of its spray-on lacquer recently, manicure junkies and nail newbies alike got amped for the new mani technology. If your skills are on the messy side, no worries; spray polish is intentionally messy, and the results are gorgeous.
If you've ever wished for a 20-second manicure, spray on polish could be the answer to your prayers.There's no denying that tiny spray can is adorable. But this new nail tech will not only shorten your mani time, it is also the perfect tool for the mess prone and nail newbies like me! While I haven't tried it yet (mine is on the way!), Vogue UK beauty editor Lauren Murdoch-Smith describes it as "quick, easy—but most importantly, fun!"
How it works: Start with a base coat. Then spritz on your color of choice from a short distance—of course it's going to get all over your fingers but that's okay, Once it's dry (and it dries quickly!), apply a topcoat and wash off the excess paint with warm water. The polish on your cuticles and fingertips will rinse away, leaving a pretty manicure behind.
If you've decided that this is a trend you need to try, you now have three brands of spray-on polish to choose from. Nails Inc's innovation inspired other companies to make their own. That said, there are some differences among each.
Nails Inc Paint Can ($12, available now)
Three Shades— silver shimmer, hot pink, and a light peachy nude.
Nails Inc was the original creator of the concept, the silver hue dries down to a gorgeous chrome!
China Glaze Coloured Nail Spray ($10, available in April 2016)
Four Shades: magenta, purple, platinum, and blue.
If you're a fan of pink shades, you'll be won over instantly by the flashes of blue shimmer in this formula.

 Milk Makeup Spray Nail Polish ($12, available now)
Three Shades options:a chic bronze, silver, and a shifting iridescent hue.
The fashion-forward brand packages stencils along with each trendy-colored polish, so you can create nail art designs with the press of a button.
Have you used the product yourself? If so, tell me what you think in the comments below.
Swimsuit season is coming up, so here are my favorite looks to hit the beach or pool in
Need I Say Shore? Swimsuit in Paradise s-xl $130  Inner Light Sunglasses $25
Bathing Beauty One-Piece Swimsuit in Red $90 sizes 4-16
Bathing Beauty Two-Piece Swimsuit in Emerald $90 sizes 4-16
Beach Blanket Bingo One-Piece Swimsuit in Red $90 sizes 4-16
Karaoke Songstress Shorts $40 s-3x
Beach Blanket Bingo One-Piece Swimsuit in Soft Black $90 sizes 4-16
Born to be Styled Hat in Black $35
Beach Blanket Bingo One-Piece Swimsuit in Red $90 sizes 4-16
Seas the Moment Swimsuit Top $60 s-xl   Seas the Moment Swimsuit Bottom $50 s-xl
Bathing Beauty One-Piece Swimsuit in Red $90 sizes 4-16 
Lively Lifestyle Skirt in Navy $40 xs-4x
Through the Wire Headband in Red $15

This organic face wash is a superior cleanser that gently deep cleans & unclogs pores with rosehip oil, ocean minerals & vitamin e. You'll be hard pressed to find a more effective face cleanser!
This facial cleanser will provide your skin with that healthy, refreshing glow. 100% satisfaction guaranteed
OZ Naturals formulates the most effective anti aging skin care products on the market. Our skin care products work & they work extremely well.
This natural face cleanser will provide your skin a more vibrant appearance upon 1st use – We guarantee you'll get results or your money back.
A proprietary concentrate of 92+ Ocean Minerals in a highly bio-available therapeutic facial cleanser. These ocean minerals nourish and repair dry skin, blemishes, skin lesions, and rough, damaged skin, while botanicals soothe and stimulate cellular regeneration.
Safe for all skin types, this product is a truly restorative facial cleanser.
Ingredients
Organic Herbal Infusion,Organic Aloe Barbadensis Leaf Juice (Aloe Vera), Decyl Glucoside, Cocamidopropyl Hydroxysultaine, Cocamidopropyl Betaine (from coconuts), Cocamide MIPA, Sodium Ascorbyl Phosphate (Vitamin C), Methylsulfonylmethane (MSM), Disodium Laureth Sulfosuccinate, Disodium Lauryl Sulfosuccinate, Carbomer, (2s)-2-Amino-5-guanidinopentanoic Acid, Olea Europaea (Olive Oil), Organic Rosa Canina (Rose Hip Oil), Borago Officinalis (Borage Oil), Citrus Aurantium Dulcis (Orange Peel Tincture), Origanum Compactum (Oregano Oil), Melaleuca Alternifolia (Tea Tree Oil), Phenoxyethanol, Ethyl Hexyl Glycerin.
According to the company, the ingredients are 72% organic. There are no parabens, sulfates, or alcohols.
If you are in the market for a facial cleanser- especially one that is void of ALL the nasty chemicals and other harmful irritants- then you have DEF come to the right place! Oz Naturals really nailed this one for me and I was VERY surprised at how well it worked and how nice my face felt after each wash. One of the things I've always noticed about my skin in the mornings when I get up, is that I tend to still have a slight oily film on my face
I know that can happen overnight, but it's always bugged me and really left me feeling that maybe my cleanser wasn't doing it for me?!
Once I finished washing my face the first time with the cleanser, I noticed that my face actually felt clean, with NO residue left behind. I have continued to use it and my skin has only gotten better AND it cleared up!