Hair
It's a lot easier to recreate than you think, explains

Latest-Hairstyles.com

guest contributor

Steph Brinkerhoff

. It's best to start on wavy or second-day hair to give the look added texture. It also doesn't hurt to spray a little hairspray or spray wax in it beforehand to add a little grip and grunge. Here's how to get the look…  
1. Beginning on wavy hair, take a medium to large section (depending on how thick your hair is) close to your right ear.
2. Braid the section going from the front to the back.
3. Repeat on the opposite side.
4. Bring both braids to the back and secure them with an elastic.
5. Loosen and mess up both braids by pulling on them gently with your fingers.
6. Take one braid and wrap it up and around itself, creating a small braided bun. 
7. Secure with bobby pins.
Click here for even more cool hair tips and ideas!
Article published in partnership with Latest-Hairstyles.com and Steph Brinkerhoff 
This Valentine's Day, plan a really hot date. And no, it doesn't involve Champagne, chocolate or cheesy Hallmark cards. Nope, it's with your colorist. When many people think of Valentine's Day,  the first thing that comes to mind is the dreamy color scheme. Why not fully embrace the spirit of the holiday and rock holiday-appropriate hair? Use the day as an excuse to get creative with romantic colors, whether they be a trendy lavender, pop of bubblegum pink, or swoon-worthy crimson.
Get ready to be wowed by these amazing shades of pink, purple and red. Pastel colors are really on trend right now, and, after all, what girl doesn't like pink? There are so many pretty shades! Take a look at these inspiring and unique hairstyles, and, who knows, maybe you'll find your ideal hair color for valentines day.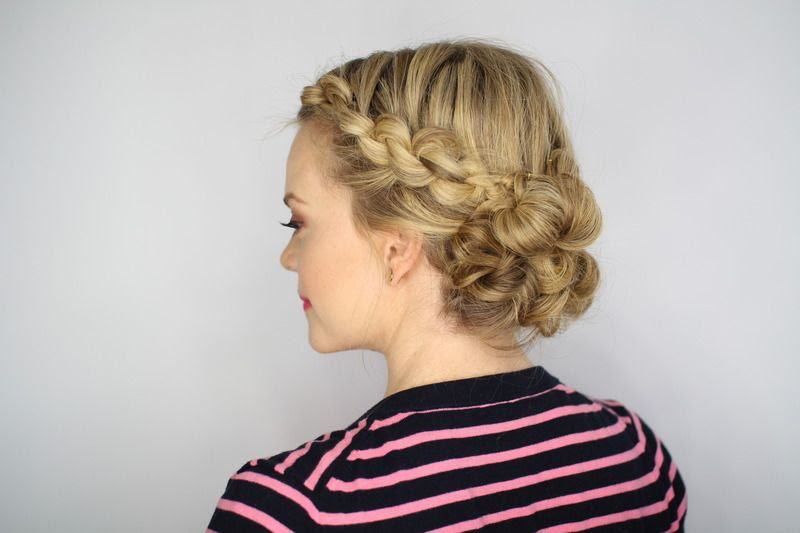 "I am excited to share this ridiculously easy knotted updo tutorial with you today. For once it pays to have your hair all knotty because this hairstyle is done by actually tying it.
This knotted 'do is perfect because it is one of those styles that can be worn with sunglasses and a pair of jeans during the day, or a little sequined dress and some heels in the evening. I am sure with everything we do all day, having a hairstyle that can transition from day to night is always a must-have in our beauty regimen. This hairstyle really does require a little bit of 
hair
 tying, but the back portion can be changed up to accommodate any type of knot or wrapped bun. Just play around a little bit and see how it works out for you. This can literally be worn nearly anywhere and is the perfect everyday hairstyle!
The Easy Knotted Updo 
Tutorial

:

Step 1
Begin with a part on the right side, then separate off a square section of hair from the part down to eye level.
Step 2
Pick up a small section of hair next to the part and divide it into two halves.
Step 3
Cross the back half over the front so it creates a small space between the two strands.
Step 4
Wrap the tail through the hole created so the hair forms half a knot.
Step 5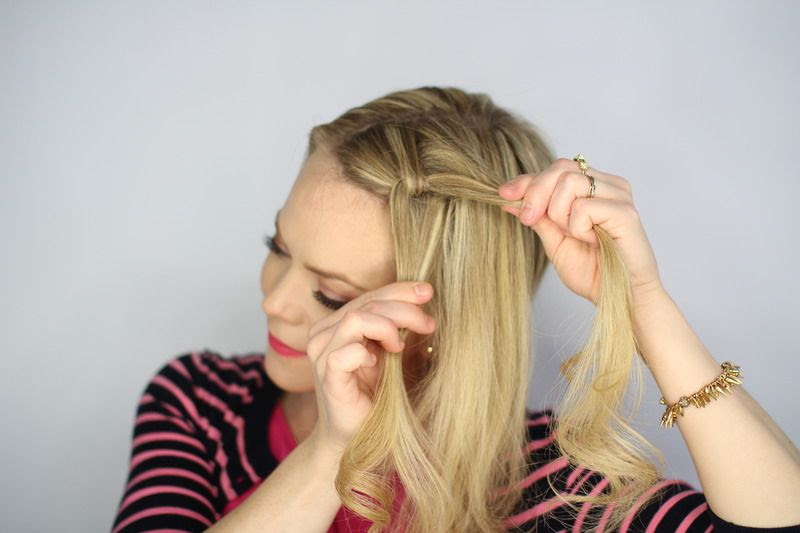 Pull it tight so it lays against the head and pick up small sections of hair, adding them into each strand.
Step 6
Create a second knot by crossing the back strand over the front, then looping the end through the hole before pulling it tight again.
Step 7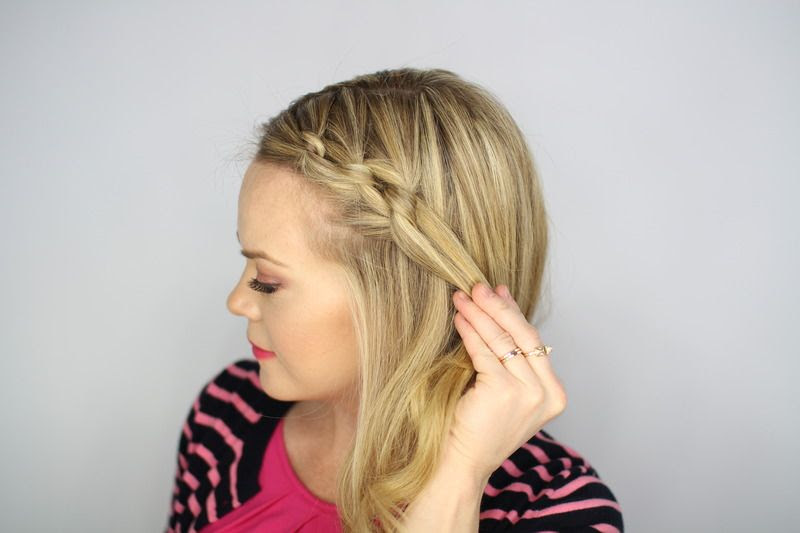 Repeat step 6, bringing in hair and tying it into knots.
Step 8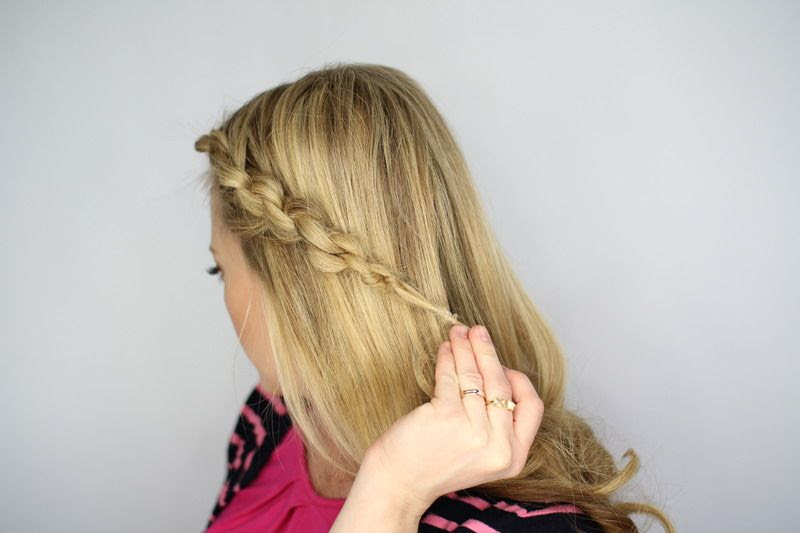 Continue tying knots until it reaches the end of the strands, then tie it off with a clear elastic band and pin it against the back of the head.
Step 9
Pick up a two-inch section of hair at the center of the back of the head and wrap the strand around your fingers. Twist the fingers counter-clockwise so the hair forms a little knot.
Step 10
Secure the knot in place with hair pins.
Step 11
Next, pick up another two-inch section of hair to the right of the first knot in step 9.
Step 12
Wrap this hair into another knot and pin it in place.
Step 13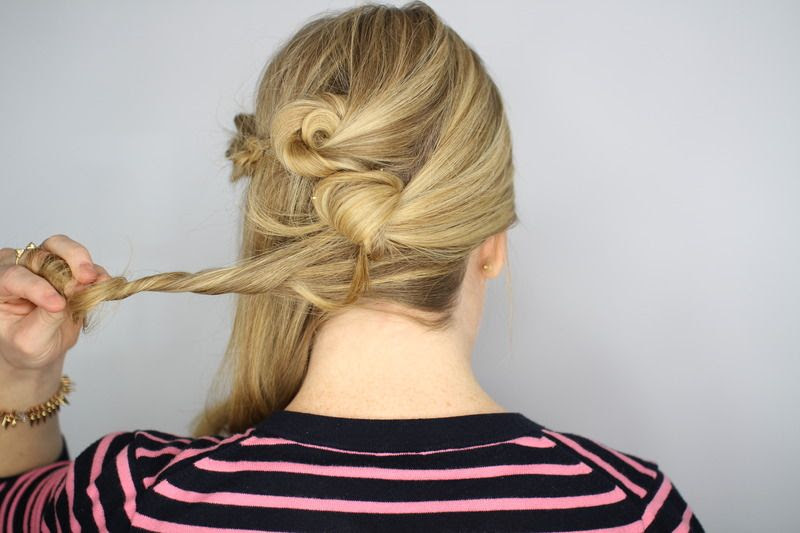 Next, pick up a section of hair below the second knot and create a third knot, securing it against the head with hair pins.
Step 14
Then take a section of hair to the left of the first knot and wrap it into another knot, securing it with hair pins.
Step 15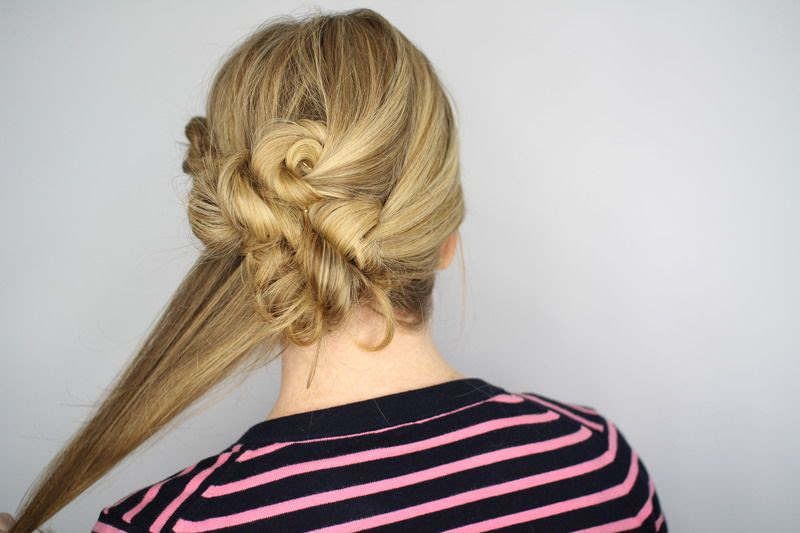 Finally, pick up the last section of hair and create one last knot, securing it with pins.
Done!
Post written in collaboration with Latest-Hairstyles.com's contributor Melissa Cook
Sometimes you have but a few minutes to spare, and an event calls for an updo with a bit of class and sophistication. That's when you whip out this bad boy: the three minute woven updo.
As the name implies, this hairstyle takes all of 3 minutes to recreate. Not to mention, the finished look makes it seem as if you spent hours slaving away in front of your mirror. We'll leave it up to you on whether or not you want to reveal just how simple it was to do when the oohs and ahhs start rolling in. For this look, all you need are some bobby pins and a bit of hairspray. You can also apply a nourishing serum to your hair before starting in order to create glossier locks.
The 3 Minute Woven Updo:
Step 1: Gather Front Section of Hair

Take a small section of hair from the front of your head. Gently twist and then push section up a little bit to create some lift at the top of your head. Secure with two criss-crossed bobby pins.
Step 2: Twist a Small Section

Take the section of hair that begins just above the ear and ends where your front section stopped. Gently twist it and drape across the back of your head, then secure.
Step 3: Repeat On The Other Side

Do the same thing again on the opposite side of your head. To conceal your bobby pins, drape this second twisted section over the last bobby pin. When securing this section, make sure the bobby pin you use is tucked under the other twisted section of hair.
Step 4: Repeat Steps 2 and 3

Follow steps two and three again, this time using sections of hair from behind the ear. Secure with bobby pins.
Step 5: Create a Bun
Gather the leftover section of hair. Start twisting it and then wrap it into itself to create a simple twisted bun. Secure with bobby pins. If you have layered hair like me, you may have pieces sticking out. Tuck them in and then spray lightly with hairspray. You can also apply a light coat of hairspray over the entire look to keep everything in place.
Post written in collaboration with Latest-Hairstyles.com's contributor Wendy Rose Gould