plus size fashion
When the heat kicks in closed-toe shoes are not an option, but this colorful sandals will make you forget what an ankle boot even looks like. Check out our list of the  eighteen must-have sandals every woman should have stocked in her closet this season.
Looking for the perfect summer dress? Here are some of my favorite options under $30
This Va Va Voom dress sizes 1x-4x $30 from Modcloth
This Halter shift sizes 1x-3x $22 from Wet Seal
This striped shift sizes 12-20  $30 from Asos
1. This pretty lace overlay shift dress sizes 0x-3x $25 from Forever 21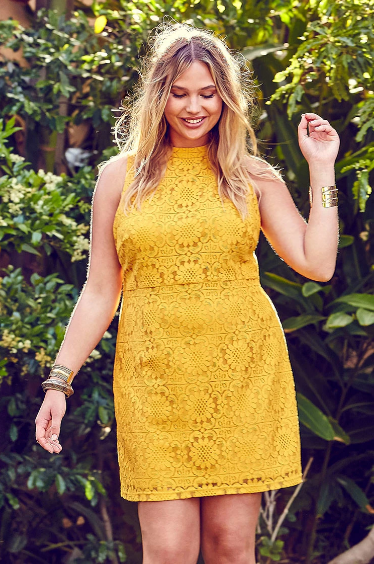 This  90's inspired black floral dress- Sizes 0x to 3X $17.90 from Forever 21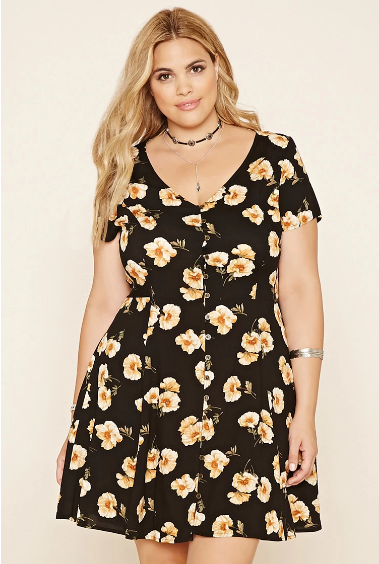 This boho beauty Sizes 12-20 $25 from Asos
This slinky number sizes 0x-3x $20 from Forever 21
This crochet frock sizes 0x-3x $28 from Forever 21
This coral cami dress sizes 0x-3x $20 from Forever 21
This Crochet maxi sizes 1x-3x $25 from Rue 21
This retro dress sizes 1x-3x $29 from Rue 21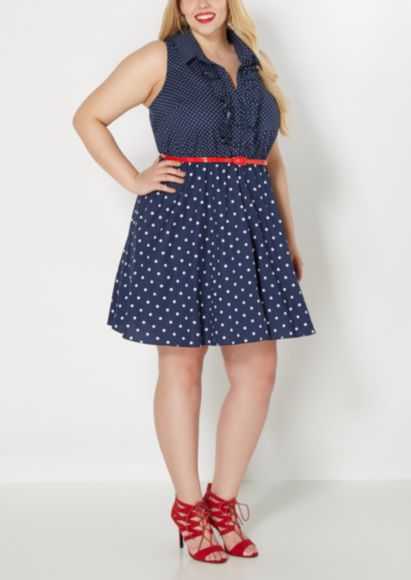 This Chiffon maxi sizes 1x-2x $30 from Wet Seal
This cold shoulder boho shift sizes 1x-2x $30 from Wet Seal
This blue wrap dress sizes 1x-2x $23 from Wet Seal
This Chambray dress sizes 1x-3x $25 from Wet Seal
Melissa McCarthy Seven7 will Launch this August!  At the end of last year, Melissa shared that she is teaming up with clothing manufacturer, Sunrise Brands, to create an all size fashion line that will also include accessories and beauty! This collection is not JUST a plus size line, but a collection that will be for ALL of us- plus and straight. Go ahead Melissa for inclusion! The actress shared the first images from her debut collection, Melissa McCarthy Seven7,—and color me impressed! The line meets the everyday gal's needs, with a versatile range of pieces and sizes (ranging from 4 to 28) that all ring in at or under $150
Now, if you didn't know, the hilariously funny and witty  actress once had design aspirations and attended Fashion Institute of Technology before she even stepped foot into acting! So it is not just a random venture! "It's always what I thought I would do, I went into clothing and textiles in college and moved here with Brian Atwood. I was going to finish at FIT and he made me do stand-up on the second night." But now that McCarthy's back to fashion, she's incorporating her charismatic comedienne personality into new line. That means plenty of vibrant patterns and playful silhouettes throughout. And if pockets are your thing, then you're in luck, because McCarthy digs em' too"I want pockets in my dresses,I put pockets in everything! I want pockets inside my pockets. You may have to wait until September to get your hands on Melissa's new line, you can check out a sneak peek of the fashion line below
"I think women want to be able to dress for their mood," McCarthy said. "My pieces mix and match, because some days we want to be rock 'n' roll and some days we want to be more polished. I love that I'll be able to chat with other women about fashion and see how they're wearing my clothes." "And when you go above a size 12, you don't lose your love of fashion" Melissa McCarthy to WWD.
I am so exited about the line!does it live up to your expectations? will you be purchasing the line when it comes out? Let me know in the comments
Sorry "O Magazine", to hell with only wearing a crop top if you have a "flat stomach"
#RockTheCrop
#SorryNotSorry
According to the magazine you should only wear a crop top if you have a flat stomach.
Fashion blogger Sarah Conley, took to her website, Style It, to reply:
Last night, my friend Tamar tagged me the above Q&A she came across while reading O, The Oprah Magazine. I was shocked to see this kind of body shaming language from any magazine, much less one named after a woman who has had her weight scrutinized throughout her career. Furthermore, I'd hoped in the era of the fatkini, plus size bloggers, and Instagram hashtags that we've moved beyond such narrow-minded thinking, but I can see now that it's time for a show & tell.
She called for people to showcase their crop tops using the hashtag #RockTheCrop:
People continued to fight back against the magazine's body-shaming:
Plus-size model Tess Holliday, who started the #EffYourBeautyStandards movement, joined in:
Whether people are using #RockTheCrop or any of the other hashtags, the movement shows no sign of stopping.
Women are going against the magazine's advice in the most badass way.
Will you #Rockthecrop
I had such a great  time at  Curvy Con, first conference of it's kind, theCURVYcon took place at the Metropolitan Pavilion West in New York City and was a daylong event that brought plus size brands, fashionistas, shopaholics, bloggers and YouTubers into one room, to chat curvy, shop curvy and embrace curvy.  The 1st annual event hosted over 500 women who came together on Saturday, June 20th to celebrate the first-ever theCURVYcon which was founded by  CeCe Olisa of Plus Size Princess and Chastity Garner of GarnerStyle Many of the top names in the curvy community were in attendance and it felt great to be around such gorgeous, confident plus size women who all work to create a plus size industry.
Here are some of my Fave looks from the day
Amber Riley (@msamberpriley),  who was the keynote speaker looked  fab in a  fringe crop top  and  grey bodycon  skirt from ASOS 
Crop tops are everything!  I love Chante's (@everythingcurvyandchic) put together  tribal print skirt and  white crop.
I love this  sequins dress worn by Gabi Gregg (@gabifresh).  You wouldn't even know that shes wearing it backwards!
Marcy Guevara (@themarcyminute) gave me major outfit inspo in  this one piece  jumpsuit  macysfrom.  The blue and white  just scream summer. 
While waiting for the doors to open, I met    SloaneIvy  and Emm
we had a great time shopping,getting flash tats,
meeting our fav bloggers
and listening to amazing panels  included Dancing With the Stars champion and Glee actress Amber Riley, GRAMMY nominated gospel artist Kierra Sheard, along with many top plus size bloggers
Mark your calendars for July 17 & 18, 2016 and Ihope to see YOU at the next Curvy Con! 
Target just unveiled its newest clothing line! Designed  for the Plus-size woman AVA & VIV is sure to turn heads.
Arriving in mid-February, the line is designed by Target'sin-house design team and features stylish basics along with trend-driven statement pieces. Just like Target's other apparel lines, AVA & VIV will be updated monthly, and with prices ranging from $10 to $79.99, you'll be tempted to buy the whole line!
"Target is synonymous with great design, and with the launch of AVA & VIV, we're stepping up our fashion game for our Plus-size guests," said Stacia Andersen, senior vice president, merchandising, apparel and accessories, Target. "From stylish original prints to the attention to detail and fit, this line is meant to impress and we can't wait to share it with our guests."
 Target invited top fashion bloggers Nicolette Mason, Chastity Garner and Gabi Gregg to be the featured models in the new label's look book! Not only did they get a sneak peek of AVA & VIV, these trend-setting ladies also had a chance to offer their stylish two cents on designs that were in progress for the fall.
Here are some of my favorites from the line check out the full lookbook here
AVA & VIV will arrive in all Target stores in mid-February through March. The line will be available on Target.com on Feb. 22.