plus size fashion
When you pull out an old clothing item that you haven't worn for a while, it can be really disheartening when you pull it on to find that it doesn't fit you in the way that is used to. It's up to you to take action on this because you don't have to simply feel sorry for yourself. But what you should you do? There are actually lots of options out there, and some of them could help you make use of your clothes in ways you never imagined, so read on to learn more.
Make Them Into Something New
Turning your ill-fitting clothes into something completely new and different could definitely be a good idea for you. You could turn an old pair of jeans into some new shorts or maybe a vest. The options are pretty much limitless, and only your own creativity will limit you when deciding what to do.
Make a More Concerted Effort to Shift the Weight
Losing weight is one of the most obvious things you can do if your clothes aren't fitting you as a result of some weight gain. We all tend to put on a little weight as we get older, so it might be time for you to find out the price of your gym, or at least get a liposuction price. Which you go for is in your hands! But getting in better shape will obviously improve many aspects of your life, including what you can wear.
Adapt Them So They Fit
Making a few simple adaptations to your clothes could make them usable once more. You can take in the seams if the clothing is too big or widen them if it's too small. All you need is some basic sewing equipment and the right skills to get this done, and it won't take you much time at all.
Replace Broken or Damaged Elements
If there are specific parts of the clothing that are broken or damaged, this could be why the clothes are not quite fitting you right. Buttons that have been stretched out of position and zips that aren't functioning as they should can all stop you from wearing those clothing items, so replace and repair them.
Let Go of the Past and Invest in Something New
Sometimes, you just need to let go of the past and move into the future. This applies to your clothes and fashion choices as much as anything else. Maybe you're clinging onto those old clothes that don't fit you because you want to relive an element of your past, but that's not necessarily healthy for you. Why not invest in some new items instead?

Whatever the reason is for your clothes no longer fitting you, there are plenty of things that you can do about it, so it's time for you to take action. Doing so will allow you to make use of items that you loved, or maybe even move on from them if that's the right thing for you to do right now.
When the heat kicks in closed-toe shoes are not an option, but this colorful sandals will make you forget what an ankle boot even looks like. Check out our list of the  eighteen must-have sandals every woman should have stocked in her closet this season.
Looking for the perfect summer dress? Here are some of my favorite options under $30
This Va Va Voom dress sizes 1x-4x $30 from Modcloth
This Halter shift sizes 1x-3x $22 from Wet Seal
This striped shift sizes 12-20  $30 from Asos
1. This pretty lace overlay shift dress sizes 0x-3x $25 from Forever 21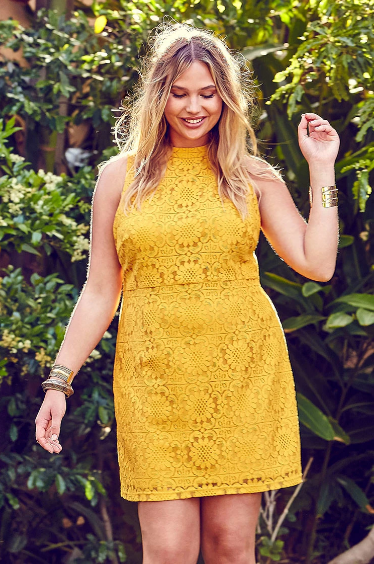 This  90's inspired black floral dress- Sizes 0x to 3X $17.90 from Forever 21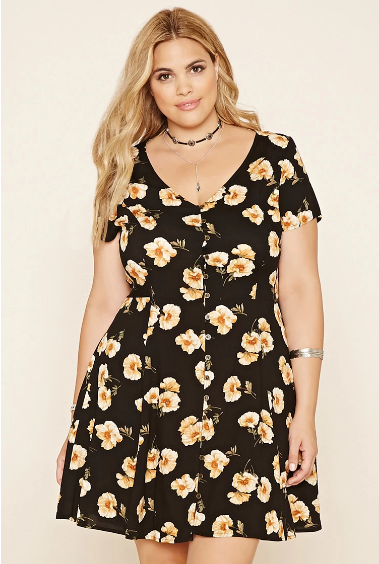 This boho beauty Sizes 12-20 $25 from Asos
This slinky number sizes 0x-3x $20 from Forever 21
This crochet frock sizes 0x-3x $28 from Forever 21
This coral cami dress sizes 0x-3x $20 from Forever 21
This Crochet maxi sizes 1x-3x $25 from Rue 21
This retro dress sizes 1x-3x $29 from Rue 21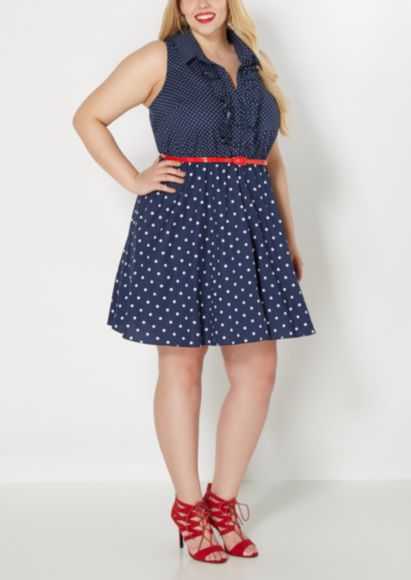 This Chiffon maxi sizes 1x-2x $30 from Wet Seal
This cold shoulder boho shift sizes 1x-2x $30 from Wet Seal
This blue wrap dress sizes 1x-2x $23 from Wet Seal
This Chambray dress sizes 1x-3x $25 from Wet Seal
Melissa McCarthy Seven7 will Launch this August!  At the end of last year, Melissa shared that she is teaming up with clothing manufacturer, Sunrise Brands, to create an all size fashion line that will also include accessories and beauty! This collection is not JUST a plus size line, but a collection that will be for ALL of us- plus and straight. Go ahead Melissa for inclusion! The actress shared the first images from her debut collection, Melissa McCarthy Seven7,—and color me impressed! The line meets the everyday gal's needs, with a versatile range of pieces and sizes (ranging from 4 to 28) that all ring in at or under $150
Now, if you didn't know, the hilariously funny and witty  actress once had design aspirations and attended Fashion Institute of Technology before she even stepped foot into acting! So it is not just a random venture! "It's always what I thought I would do, I went into clothing and textiles in college and moved here with Brian Atwood. I was going to finish at FIT and he made me do stand-up on the second night." But now that McCarthy's back to fashion, she's incorporating her charismatic comedienne personality into new line. That means plenty of vibrant patterns and playful silhouettes throughout. And if pockets are your thing, then you're in luck, because McCarthy digs em' too"I want pockets in my dresses,I put pockets in everything! I want pockets inside my pockets. You may have to wait until September to get your hands on Melissa's new line, you can check out a sneak peek of the fashion line below
"I think women want to be able to dress for their mood," McCarthy said. "My pieces mix and match, because some days we want to be rock 'n' roll and some days we want to be more polished. I love that I'll be able to chat with other women about fashion and see how they're wearing my clothes." "And when you go above a size 12, you don't lose your love of fashion" Melissa McCarthy to WWD.
I am so exited about the line!does it live up to your expectations? will you be purchasing the line when it comes out? Let me know in the comments