beauty
Recipe Essentials:
1 cup baking soda
½ cup citric acid
¼ cup cornstarch
¼ cup powdered milk
4 teaspoons Out of Africa Pure Unrefined Shea Butter
2 tablespoons warm honey
2 tablespoons jojoba oil or olive oil
1 teaspoon essential oil
Plastic candy sheet mold
Step 1
"Sometimes a relaxing bubble bath is all it takes to seize the day," explains lifestyle expert Jasmine Stringer of carpediemwithjasmine.com. "To make these bath bombs successfully, it is important to have your ingredients measured out and ready to mix."
Step 2
Combine and stir the baking soda, citric acid, cornstarch and powdered milk in a bowl.
Step 3
Melt the Out of Africa Pure Unrefined Shea Butter along with the honey and oil over a low heat in a small pot on the stove. The Out of Africa Shea Butter is loaded with antioxidants and vitamins A, E, & F along with healthy fatty acids and valuable phytonutrients.
Step 4
Add the melted ingredients to the dry mixture, using a whisk to thoroughly combine everything. For an enhanced spa feel and fragrance, place a few drops of your favorite essential oil. Mix well.
Step 5
The ingredients should begin to hold together. Working quickly, use your hands to press the mix firmly into the flower molds. Leave the mixture in the mold for a couple of minutes and then pop out. While one tray is drying, work on the next.
Tip: "I put a cookie sheet over the trays, flipped them over and then lifted the mold off. If you have anything leftover, just dry the product out, leave it loose and turn it into a bath powder. Simply leave the mixture in the bowl for 24 hours, periodically mixing the ingredients to break up the clumps. Once all of the moisture is gone, place in a mason jar with a colorful ribbon."
Step 6
Let the bath bombs dry overnight. The next day, place them in a decorative bag or drop 1 to 2 bombs into your tub and relax.
This Valentine's Day, plan a really hot date. And no, it doesn't involve Champagne, chocolate or cheesy Hallmark cards. Nope, it's with your colorist. When many people think of Valentine's Day,  the first thing that comes to mind is the dreamy color scheme. Why not fully embrace the spirit of the holiday and rock holiday-appropriate hair? Use the day as an excuse to get creative with romantic colors, whether they be a trendy lavender, pop of bubblegum pink, or swoon-worthy crimson.
Get ready to be wowed by these amazing shades of pink, purple and red. Pastel colors are really on trend right now, and, after all, what girl doesn't like pink? There are so many pretty shades! Take a look at these inspiring and unique hairstyles, and, who knows, maybe you'll find your ideal hair color for valentines day.
Today I'm excited to talk to you about Evian Facial Spray, which I received for testing purposes from Brand Backer.
I've been wanting to try the Evian Facial Spray for a while now, but for some reason I never picked it up, so when I saw this campaign, I knew I had to try it!
A nice cool mist of Evian facial mist on dry parched skin will leave you feeling revived and rejuvenated.  The summer months can be brutal on my skin. never imagined that Evian facial spray would be one of my go to summer  essentials. I've seen a a ton of  people chat about it on social media but doubted that it  really worked.  My first thought was it's just water in a bottle. What can this do that putting  water in a spray bottle can't. I quickly found out this works so much better. It did have a fine mist that felt great. I used this for all of the uses listed above. I  used the spray  consistently during the day and first thing in the morning.
The Evian Brumisateur Natural Mineral Water Facial Spray is supposed to moisturize, refresh and tone your face.
Honestly, I wasn't expecting much from this, but now I love it! this spray is great for rehydrating and refreshing my skin, whether I'm wearing makeup or not. (The mist works great to moisten my beauty blender.)
I think this product will be handy during any time of  year, but especially now  when it's so hot and makeup melts off my face. This is a great refresher, and it just makes my skin feel so hydrated. I will get some good use out of this, and will definantly  have to buy another once I run out.
I highly recommend this product for anyone who wants a little refreshment for your skin throughout the day,  you can use it as many times as you want and it doesn't make your face oily or dry. I can see why everyone is raving about this spray. Give it a try, and let me know what you think!
Hurry! Only a few days left to sign up for Julep Beauty Box and get their Star Spangled 8-Piece Beauty Gift for FREE when you pay for your first month ($24.99). That's a $122 off free red-white-and-blue beauty! Use the products in the gift to get the perfect look for the long 4th of July weekend.
To redeem your Star Spangled 8-Piece Beauty Gift, add the gift to cart and use code FIREWORKS at checkout.
Your free patriotic beauty gift includes:
Four patriotic nail polishes

Hot pink lip gloss

Peony pink blush stick

Bronze eyeliner

White chevron nail decals
After you join Julep, you'll get a box of gorgeous and good-for-you beauty, nail, or skincare products delivered to your door every month. Julep offers the only full-size and fully-customizable beauty box out there, so you get what you want every month!
Get your Star Spangled 8-Piece Beauty Gift today! Use promo code FIREWORKS to get your free gift when you pay for your first month of Julep ($24.99).
**This post contains affiliate links and I will be compensated if you make a purchase after clicking on my links.
You can now get $750 in free accessories when you  sign up to be a Stella & Dot Stylist for as low as $199 now through April 30th!
An additional $100 in initial Sample Credit is accessible to Stylists immediately upon signing up. Sign-up options are as follows:
• Online and On-The-Go Sign-up: $199 for $450 in Sample Credit
• Trunk Show Essentials Sign-up: $499 for 1,100 in Sample Credit
• Business Builder Sign-up: $699 for $1,600 in Sample Credit
In addition to getting special discounts on the jewelry and accessories that you love, you  will also have the freedom to style your own financial future when you  become a Stylist with Stella & Dot. Other perks include:
• An incredible business to call their own
• The ability to work from home and earn extra income sharing the jewelry, accessories, and fashion trends that you love with others
• Training and support from amazing and successful women
• Free jewelry, as well as significant discounts
• Expense paid vacations
• A personal website and online business center
• and so much more!
You can learn more about becoming Stella & Dot Stylist by going here.
Sign up as a Stella & Dot Stylist for $199 and get $750 in FREE accessories when you sign up in April!
Last but not least, you'll be able to earn an additional $300 in product credit when you  sell $1,000 in the first 30 days!
I received the below product(s) free for review purposes

When  MAKE Beauty reached out to me to do a review I knew I had to say yes!
A bit about the brand: MAKE believes there are no beauty rules. That each individual is driven by an artistic approach to their own personal reality. That it's beautiful to be inspired by your imagination. To embrace a whimsical approach to life. To be outspoken, intelligent, confident and un-self-conscious. MAKE encourages creative self-expression as individuals everywhere
color their world. Their beauty products are designed for personal experimentation with rich formulations and rare palettes in an unconstrained range of colors, finishes and textures. The line is professionally formulated but user-friendly and can be applied as layers to give as much or as little impact as you feel like on any given day. Whether the look is the perfect no-makeup-makeup or modern minimal alongside a more pigmented finish is entirely up to you.
MAKE  Silk Cream Lipstick in Taffy $25-0.12 oz.
Vivid, saturated color that does double duty as a protective moisturizing treatment with antioxidant vitamins, rosehip, soybean and safflower oils. Aloe and chamomile extract further condition lips. Feather-resistant and intensely pigmented in true-wear shades. Apply to lips after primer and liner.* Not tested on animals, hypoallergenic.
MAKE Matte Finish Eyeshadow in Alabaster $25-0.10 oz.
Turn heads with this stunning, intensely pigmented shadow in an array of blendable shades. The velvety matte powder goes on smoothly with a crease-resistant, oil-free formula that looks fresh for hours after you've applied it. Vitamins C and E help to provide antioxidant protection for the delicate eye area. Gently sweep over lids, apply dry or wet for a more intense finish. * Not tested on animals, hypoallergenic.
I received  sample sizes' of these products and the silk cream lipstick and  Matte finish eyeshadow are Tiny and I was only able to get a few uses out of them.
Anyway, coming to the quality, the silk cream lipstick is a satin finish and the shade taffy is a medium toned pink that is universally flattering. Although the shade and finish were nice the staying power is lacking. It stays on for 4-5hours (if you don't eat/drink anything, so it stayed on for about 2-3 for me)
The matte finish eyeshadow is a soft eggshell color with a hint of peach. The color was perfect for my skin. I like the texture as it is really easy to apply. The outcome totally gets affected if you don't use a primer.
Enjoy a special 20% off sitewide on Makebeauty.com with the code MAKEYOURSELF, valid through 3/1-5/31
It's the first day of Spring, and Julep has a new gift-with-purchase subscription offer featuring three spring-forward polishes.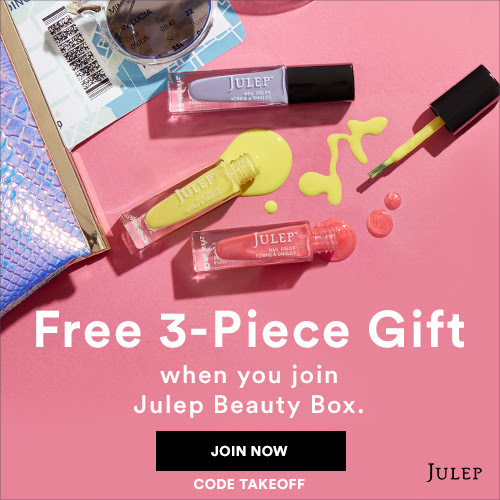 Spring broke? Here's your break! If you can't get away for a proper week in the sun this spring, lighten up with a pop of bright pastels! You'll get this Free 3-Piece Polish Gift when you join Julep Beauty Box. When you join Julep, you'll get a box of gorgeous and good-for-you beauty, nail, or skincare products delivered to your door every month. Julep offers the only full-size and fully-customizable beauty box out there, so you get what you want every month! To redeem your Free 3-Piece Polish Gift, add the gift to cart and use code TAKEOFF at checkout.
Your gift includes:
One pink grapefruit sheer iridescent polish

One hyacinth crème polish

One tart lemon crème polish
Here are some reasons why you'll love Julep:
Julep is affordable. Every month you get more than $40 of full-size products for just $24.99 per month (tip – prepay for three months at a time and only pay $19.99 a month).

Julep is the only customizable subscription beauty box that makes all of their own (full-size!) products . That means no surprises, no dupes or colors you don't like. You can see what is in your box each month and have the option of swapping out colors/products you already have or don't want.

Julep subscribers get 20% off all single product purchases, free shipping, early access to secret sales. If you are passionate about your polish, that adds up to some amazing savings!

Satisfaction guaranteed – just call to cancel anytime.
Get your Free 3-Piece Polish Gift today! Use promo code TAKEOFF to get your free gift when you pay for your first month of Julep ($24.99).
When polish brand Nails Inc announced the launch of its spray-on lacquer recently, manicure junkies and nail newbies alike got amped for the new mani technology. If your skills are on the messy side, no worries; spray polish is intentionally messy, and the results are gorgeous.
If you've ever wished for a 20-second manicure, spray on polish could be the answer to your prayers.There's no denying that tiny spray can is adorable. But this new nail tech will not only shorten your mani time, it is also the perfect tool for the mess prone and nail newbies like me! While I haven't tried it yet (mine is on the way!), Vogue UK beauty editor Lauren Murdoch-Smith describes it as "quick, easy—but most importantly, fun!"
How it works: Start with a base coat. Then spritz on your color of choice from a short distance—of course it's going to get all over your fingers but that's okay, Once it's dry (and it dries quickly!), apply a topcoat and wash off the excess paint with warm water. The polish on your cuticles and fingertips will rinse away, leaving a pretty manicure behind.
If you've decided that this is a trend you need to try, you now have three brands of spray-on polish to choose from. Nails Inc's innovation inspired other companies to make their own. That said, there are some differences among each.
Nails Inc Paint Can ($12, available now)
Three Shades— silver shimmer, hot pink, and a light peachy nude.
Nails Inc was the original creator of the concept, the silver hue dries down to a gorgeous chrome!
China Glaze Coloured Nail Spray ($10, available in April 2016)
Four Shades: magenta, purple, platinum, and blue.
If you're a fan of pink shades, you'll be won over instantly by the flashes of blue shimmer in this formula.

 Milk Makeup Spray Nail Polish ($12, available now)
Three Shades options:a chic bronze, silver, and a shifting iridescent hue.
The fashion-forward brand packages stencils along with each trendy-colored polish, so you can create nail art designs with the press of a button.
Have you used the product yourself? If so, tell me what you think in the comments below.
For the last couple of years, ombre has been the hottest look on the hair scene, and everyone has been obsessed with dyeing the ends of their hair funky colors, like pink and blue. But now Instagram is being taken over by a new, ~edgy~ kind of roots: glitter.
Following in the footsteps of rainbow roots, glitter roots are the new way to add a little disco flare to your strands.  Instagram is blowing up with this cool new look, usually accompanied by a colorful pair of baby buns.
According to the hair salon Lucy grammed from, The Fox and the Hair, the look is super easy to replicate. Just mix your favorite glitter with clear hair gel and paint it onto your part. ​


Check out more gorgeous ways girls are rocking the sparkly look!​
Have you heard of Glitter roots? have/will you try it?
Let me know in the comments below
Color coordinating your entire attire with the Christmas decorations in Red, Green and White might be a little too much for grown up ladies but matching your Nails with the decor definitely does look really cute and helps you endorse the spirit of Christmas in your own stylish way.
Find the full tutorial at Nails World
Check out the tutorial at The Lacquerologist
Find the full tutorial at Blue tape and Nail tips
Check out the tutorial at Pshiiit
Find the full tutorial at The Lacquerologist
Find the full tutorial at Qtplace
Find the full tutorial here
Find the full tutorial at JaxNails
Find the full tutorial at Newly Polished
Find the full tutorial at Jaunty Juli