Monthly Archives:
May 2016
Looking for the perfect summer dress? Here are some of my favorite options under $30
This Va Va Voom dress sizes 1x-4x $30 from Modcloth
This Halter shift sizes 1x-3x $22 from Wet Seal
This striped shift sizes 12-20  $30 from Asos
1. This pretty lace overlay shift dress sizes 0x-3x $25 from Forever 21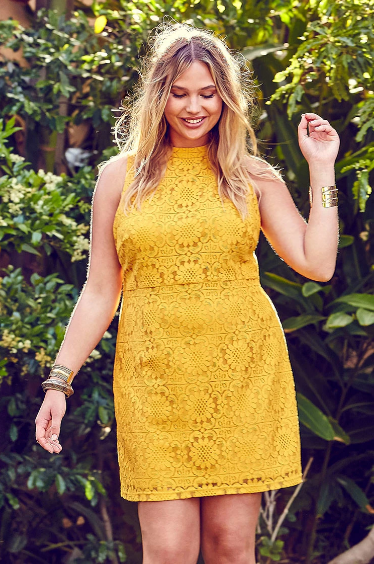 This  90's inspired black floral dress- Sizes 0x to 3X $17.90 from Forever 21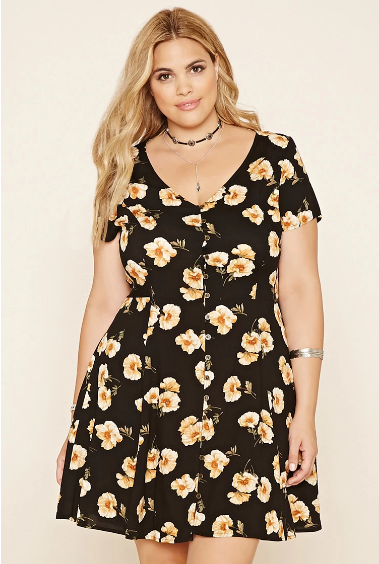 This boho beauty Sizes 12-20 $25 from Asos
This slinky number sizes 0x-3x $20 from Forever 21
This crochet frock sizes 0x-3x $28 from Forever 21
This coral cami dress sizes 0x-3x $20 from Forever 21
This Crochet maxi sizes 1x-3x $25 from Rue 21
This retro dress sizes 1x-3x $29 from Rue 21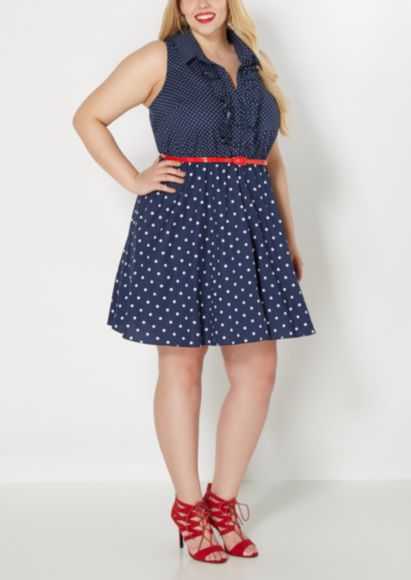 This Chiffon maxi sizes 1x-2x $30 from Wet Seal
This cold shoulder boho shift sizes 1x-2x $30 from Wet Seal
This blue wrap dress sizes 1x-2x $23 from Wet Seal
This Chambray dress sizes 1x-3x $25 from Wet Seal
Sometimes the thought of primping and polishing is just too much. For just such days: we have  the shirtdress, because you can't wear pajamas to work.
Now that warm weather is in full swing, the shirt dress is just the piece you need to make the transition to summer a total breeze.
A gift to ladies everywhere, a shirtdress is part sophisticated outfit, part loungewear. Sounds like a win-win to me!
Shirtd resses are breezy and keep you cool during the summer, and they can work for the office or a backyard cookout. The simplicity of the shirtdress allows for minimal outfit planning—just add a few accessories for a complete look.
Whether you're rocking the traditional blue chambray, feeling romantic in a floral number, or looking nautical in stripes, we've got just the shirtdress (or a few) for you.
1. & Other Stories Oversized Twill Shirt Dress ($95): If you're stuck in an LBD rut, think outside the box  by giving this pocketed shirt dress a try. Play it cool with a laid-back  cross body  and d'orsay  flats or  dress it up with a statement belt and an updo.
2. Loft Flippy Shirtdress ($80):Wear this pretty paisley number with espadrille wedges and dazzling drop earrings for date night or  toss it on top of a swimsuit for a beach-day getup that makes the transition from sand to street easy.
3. Zara Striped Tunic ($50): Dotted with petite palm trees,Play up its vacay-ready vibes with a bright pineapple clutch bag and a straw hat. Bonus points for pom-pom embellishments.
4. Fred Perry Polka Dot Shirt Dress ($190): Celebrate the onset of warm weather  with a polka dot shirt dress that will inspire you to do less. Style it with simple white sneakers and a straw cross body bag for a low-key look.
5. Reformation Dozer Dress ($58):Achieve French-girl perfection by styling it alongside a knotted silk scarf and a don't-care 'do.Whether you tuck it into denim or let it hang loose, this relaxed, long-line tee can do no wrong.
6. Free People Looking for Love Henley ($128): Stand out in a sea of denim and suede A-line minis with this '70s-inspired henley dress that will look as cute with clogs and oversized hexagonal sunnies as it would with crossover slingbacks and a tassel ear jacket