Monthly Archives:
April 2014
**This post contains affiliate links and I will be compensated if you make a purchase after clicking on my links It's time to remember that special woman in your life that raised you, fed you and took care of you rain or shine, that's right, Mother's Day is Sunday May 11th. To help you celebrate, now through end of day 5/4 Stella & Dot is offering their You Are My Sunshine necklace for $14.99 when you spend $50+ . This sterling silver necklace has a heartfelt message expressed in silver, gold and rose gold plating. It is 16″ long and lead and nickel free. It is a really great way to show moms everywhere how much they are loved and appreciated. If you are looking for even more ways to spoil that amazing lady, shop the Stella & Dot Mother's Day Boutique today!

I am in the Market for new glasses and I think That these are adorable (If only I could figure out which ones I should get)
and warby parker will send them to you (for free) for 5 days so you have plenty of time to try them on and choose the ones you want, then you ship them back after 5 days (they provide a shipping label) and for every pair you buy they provide one to someone in need Via their
buy one give one
initiative

BAXTER in
pinot noir

WALKER in canton blue

BURKE in Tennessee whiskey
Which ones do you think I should get?
FTC Disclosure Statement: This post contains affiliate links and I will be compensated if you make a purchase after clicking on my links.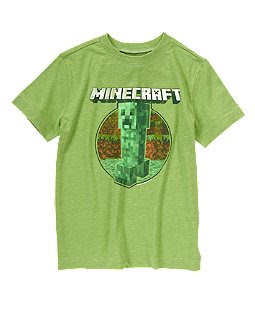 Minecraft is the hottest kids game out there, and now, the much anticipated tees are available at Crazy 8 for just $14.88! These tees are sure to be a favorite and on the top of our kid's summer wardrobe list. Don't let this amazing deal creep by! Minecraft themed tees at Crazy 8 only $14.88!
(This post contains affiliate links which means I will be compensated if you purchase after clicking these links.)
In addition to wonderful online courses and craft supplies,
Craftsy
also has an independent
online pattern store
that lets anyone upload and sell downloadable e-patterns with no fee!
How do you add a pattern to Craftsy and start your pattern store? It's easy!
1. Make sure you have a Paypal account. All pattern transactions happen through Paypal, and Craftsy requires that you have a Student, Premier, or Business account in order to sell patterns.
2. Put your pattern in .pdf format. You can't upload any patterns to the online pattern store unless they're a .pdf file format, so if they're currently saved as a Word doc, .jpg, or other file format, you must convert it to a .pdf before you upload it to Craftsy.
3. Include a photo. All patterns must have at least one photo to accompany them, but you can add up to five photos. Colorful, interesting photos tend to work the best for catching our members' eyes!
4. Fill out the pattern description. We will ask you some basic questions around your pattern making it easier for Craftsy folk to find your pattern and know what your pattern is for. Make sure you have info about your pattern handy for this step.
For more information on how to sell a pattern through Craftsy, or to get started, visit Craftsy today!
**This post contains affiliate links and I will be compensated if you make a purchase after clicking on my links.
Nothing better than spreading love to friends and family, and that is just what Tea Collection is doing! For just two days only (4/22 and 4/23) you can receive
20% Off Everything for Friends & Family at Tea Collection
during their Friends & Family Sale. Take advantage of the sale and pick up twirly dresses, colorful Tees and sweet baby items for summer. Also check out Tea's new sporty selection of swimsuits for your little water bug. Feel free to tell your friends and family, because there is always enough Tea Collection love to go around.
I just found out about a new app From Kids Academy Its called
Preschool and Kindergarten learning kids games for girls & boys ∙ Learn to read interactive ABC, alphabet tracing, phonics song with educational app based on Montessori match letter quiz & logical math puzzle games for toddler iPad free
(Yes The Name Is that Long)
C enjoyed this app greatly and spent Half an hour Tracing letters. (She usually won't play a game for more than five minutes) This is a great way for kids to learn to Print and what kid dosn't like the iPad? Its great when you can find apps that are educational but still seem like games to the kids
This App offers multiple games including
In this game you follow the firefly path with your finger to create the number (There Is also a letter tracing game)
Here You Can Discover Different Items that start with that letter by Clicking on the shapes
These Are just Two of the many games available in this Amazing App
*This post is sponsored by Kids Academy Games but all opinions are my own
As mothers day is aproaching we are all thinking of that to get our moms (I certainly am)
Bashford Jewelry Offers socially- conscious and eco-friendly fine jewelry.
"Our Mission is to create one of a kind jewelry using ethical sourced diamonds and environmentally responsible sourcing. We use only conflict free diamonds/gemstones and research all our diamonds origins, to create awareness, give back to community and protect the environment and improve livelihoods."
photo credit Bashford Jewelry
They Have GORGEOUS jewlery
(Mothers day IS coming up fast)
here are a few of my favorites for mom (I wouldn't mind them either)
photo credit Bashford Jewelry
This is adorable!
Could be personalized with your children's initials for mom or grandma
photo credit Bashford Jewelry
These have a old hollywood elegance to them don't they?
photo credit Bashford Jewelry
It would make a wonderful cocktail ring or a non traditional and somewhat inexpensive engagement ring ($750) (It also has free engraving for a little extra sentiment)
photo credit Bashford Jewelry
This is Wonderful green is my favorite color (besides blue) (Free engraving)
All purchases include a 30 day money back guarantee, lifetime warranty and free worldwide shipping


*This post is sponsored by Bashford Jewelry but all opinions are my own




I recently got the chance to Try Spark Energy Drink By Advocare
Thanks to Nikki over at Her3LittleThinkers!
Photo Credit Advocare.com
I hate the taste of coffee but need the caffeine and I had heard great things about Spark so I was more than happy to try it.
I added it to 8oz of water mixed it up and tried it it was too sweet for my taste so I added another 8oz of water and it tasted MUCH better
It took me about 5 min (it isn't a chuggable drink) to Finish But it tasted pretty good
next time I will add it to sparkling water
Spark comes in several flavors
Citrus,
Cherry,
Fruit Punch,
Grape,
Mango strawberry,
Mandarin Orange
Pink Lemonade.
14 Pouches (1 serving each) for $22.95, or a canister with 42 servings for $51.95 ($1.24 per serving). AdvoCare recommends 1 to 3 servings per day, between meals.
Spark boasts 125mg of Caffeine (about the same as a cup of coffee according to Mayo Clinic)
AdvoCare boasts that Spark Energy Drink "Is a sugar-free source of long-lasting energy and heightened mental focus and performance.*" Here is the overview from their website:
OVERVIEW
•Our #1 seller
•The most nutritionally advanced energy drink on the market
•Sugar-free, long-lasting energy*
•Surprisingly fast-acting*
•Contains 21 vitamins, minerals and nutrients designed to synergistically provide a healthy, balanced source of energy*
•Just 45 calories per serving
•Sharpens mental focus*
*And as usual those statements are not evaluated by the FDA.
What did I think overall?
Well, it works This is a nice coffee substitute. I think my mental focus was heightened but I didn't really do anything using a ton of brain power. I'd love to see how this would work during exams week!
The bottom line?
If you're looking for a way to get your Energy back and don't like coffee/dont need the extra calories
Its Quick, easy and handy (since the pouches pop right into your purse or bag)
The flavor is great and you could add it to any beverage. (next time I will add it to sparkling water.)
Interested in giving Spark Energy Drink a try for yourself? Visit Nikki's AdvoCare Page to order!
((((((((((((((((((((((((((Almost forgot! )))))))))))))))))))))))))))))
Nikki Is giving one of my readers a chance to win a box of spark (winner chooses flavor)
Celebrate Earth Day with Tips from Little Passports
Our global adventure wouldn't be possible without a globe to explore. It's up to each of us to learn about our planet and keep it healthy. It should be no surprise, then, that Earth Day is one of our favorite holidays! This year, people all over the globe will gather in their communities to celebrate.
Photo Credit: Shutterstock.com
There are many Earth Day celebrations around the world which focus on helping cities switch to these sustainable energy sources and becoming "green" cities.
Sustainable energy sources are ones that can replenish themselves (such as wind and water) and would have a smaller impact on the environment
With a focus on sustainable energy, the Saskatchewan Environmental Society in Canada is holding the "25 Acts of Energy Conservation" campaign. They are challenging people at home and in schools to take 25 steps to save energy and water and to reduce waste. In an effort to help people stay on track, the society will be posting daily tips. They are even holding a contest for the top 25 acts!
Photo Credit: Shutterstock.com
In the United States, schools celebrate Earth Day (April 22) by planting trees and cleaning public parks to create public awareness about ways we can keep the Earth healthy. Here are a few simple ways Sam and Sofia (the cute Little Passports characters) try to keep Earth clean.
• Reduce – use less electricity and water
• Reuse – use things like aluminum bottles to carry drinking water instead of buying plastic bottles
• Recycle – dispose of paper and plastic in "recyclable" baskets so they can be made into new materials, using less energy
If you loved this information, check out the Little Passports Blog for more fun learning opportunities to share with your kids and maybe even get them started with a subscription of their own! (15% Off New Subscriptions at Little Passports Now – 4/8 with code: HAPPY5)
*This post is sponsored by little passports but all opinions are my own
**This post contains affiliate links and I will be compensated if you make a purchase after clicking on my links.
The bags are only $10 and can contain any item sold at Modcloth.com. Each item has a value of between $30 and $200!
So, basically, what you end up getting is a true mystery, but if you like that retro-vintage style of clothing, you'll probably enjoy what you get
I can't find a price on the site but It is made with high quality fabric and has a nice lining so I would guess about $65-$85
It was a bit tight so I ended up giving it to a friend, But for $10 it was worth it!